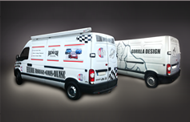 Van Graphics and Vehicle Branding
Clever Vehicle graphics can turn a plain Car/Van into a professional looking vehicle. Your Customers will feel more confident when your branded vehicle turns up to quote or begin work. We only use the highest quality material from 3M and are on track to become Ireland's only 3M certified installer. Our skilled team ensures that your signage / branding is applied with the highest of detail, to achieve a high impact and quality long lasting product.
Entire vehicles can be wrapped in full colour digitally printed branding. Alternatively, for customers who want to brand their vehicle on a budget, we can also offer a half or quarter wrap service. We work closely with you to get the design right, while being mindful of your budgetary constraints.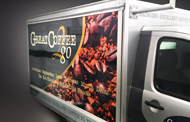 Advertising
Having your van wrapped with your company branding is like having a huge moving billboard working for you 365 days a year. For every mile you drive, you attract potential new customers. People can see your "billboard" everywhere: Parked outside jobs attracting passer bys, people seeing it in slow moving traffic on the road - it really is a high impact marketing tool.
If you have a full branding idea, or even if you just have a high quality product photograph or image, our skilled team of designers can easily translate this idea into an eye catching moving billboard that will leave a long lasting first impression.
Brand recognition and awareness creates trust in your company and its services.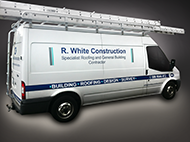 Van Signage
The most cost effective option is plain vehicle Signage, you supply us with the company name, logo, contact details and any tag line / text you would like applied, then we will come up with a design and proof that gets your business message out there. Prices start from as little as 100 euro for a small car / derived van.
We can also apply a full Colour Change to your commercial vehicle and then apply extra signage on top of this new colour. This is very popular for large fleet companies that are buying second hand vehicles and wish to achieve uniformity of colour and logos to fit in with their entire company branding guidelines. Many leased vehicles are utilizing this option, as it brings additional savings for fleet operators in long term rentals.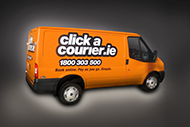 Full branding wrap
This option is only limited by your own imagination, your entire vehicle turns into a blank canvas that we can apply a fully digital printed wrap to. Any pattern, design, style, colour or literally anything that you can think of can be printed onto your vehicle, if you have a design / brand that you already have you can send it on. However if you only have an idea but no artwork we have a very skilful design team who would be happy to help you create a masterpiece for your vehicle. If you want to get noticed and turn heads then this option is one of the most savvy investments you will ever make for your company.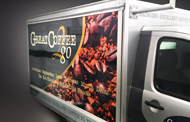 Van Graphic Removal Service
Are you trading in or selling your Van and not sure what to do about the existing graphics? No problem, we can remove old graphics or wraps from as little as 60 Euro. No more hairdryers, paint flakes or sticky residue left on your panels. We remove graphics professionally and quickly and in most cases will return your paintwork to its former glory.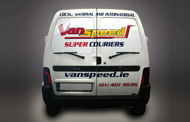 Benefits
Wrapped vehicles reassure your customers that they are dealing with a professional company.
Turn your vehicle into a moving billboard working for you 24Hours a Day.
Attract new leads and customers with every mile you drive, or even while you're parked up at a current job.
Stand out from your competitors with full colour vehicle graphics.
Turn your Company Vehicle into a revenue generator as opposed to just an overhead.
The cheapest form of advertising, when compared to Print, Radio, & TV.
Individual panels can be changed / re-wrapped to promote new products / prices / offers.
Can easily be removed when the vehicle is being sold or returned on lease expiration.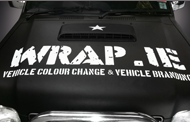 Quote Me
If you would like to get a no obligation quote on your van just fill in the quick quote form on this page, or go to our Contact Us page. Alternatively you can call our Dublin fitting depot on 01-4977378.